Speaking Engagements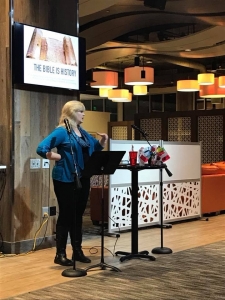 Upcoming:
• January 19 & 20, 2018—Lisa will be a break-out speaker at the National Inaugural Women in Apologetics Conference, Biola University, CA.
Past:
• October 13 & 20, 2017— Lisa spoke at the UW Upperhouse on the issues of "Science & Faith."
• September 13, 2017—Lisa taught on the "Authority of the Bible" at City Church in Madison.
• July–August, 2017— Lisa finished a 6-week apologetic women's devotional study at City Church in Madison.
For questions, or to have Lisa speak at your event, please e-mail her here: LisaQ@thinkdivinely.com
Permissions: You are permitted and encouraged to reproduce and distribute this material in any format provided that you do not alter the wording in any way, do not charge a fee beyond the cost of reproduction, and you credit the author.
Disclosure of Material Connection:  I have not received any compensation for writing this post. I have no material connection to the entities I have mentioned. I am disclosing this in accordance with the Federal Trade Commission's 16 CFR, Part 255: "Guides Concerning the Use of Endorsements and Testimonials in Advertising."